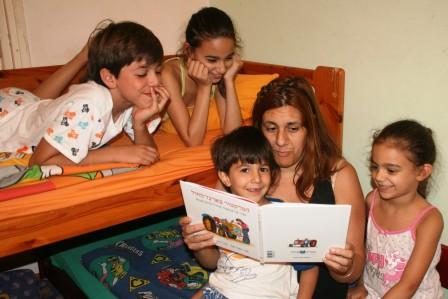 Giving every Israeli child a bedtime story
Giving every Israeli child a bedtime story
New project aims to promote early education literacy, teach Jewish values that transcend religious affiliation
In an exciting new project launching, Sifriyat Pijama will send story books to more than 40,000 children across Israel.
In cooperation with the Ministry of Education, some 360,000 copies of top-rate children's books will be delivered over the course of the school year to more than 1,500 preschools, mainly in Israel's periphery regions. Following initial enrichment activities with teachers, each child will take home a book each month, a gift to share at home and to build a "pajama library."
As a pilot project in 2009, Sifriyat Pijama targeted 3,000 children in 103 preschools in northern Israel. Enthusiastically received by the children and their parents, and warmly endorsed by teachers, Sifriyat Pijama succeeded in penetrating homes where bedtime stories were not a routine and in getting kids hooked on books.
According to an evaluation of the pilot year, teachers reported that nearly 100% of the parents read the Sifriyat Pijama books to their children at home, and siblings often joined in.

Project enthusiastically received by children and their parents (Photo: Mariana Suarez)
Adapted from the American award-winning PJ Library®, sponsored by The Harold Grinspoon Foundation, Sifriyat Pijama partnered with the Ministry of Education through The Israel Center for Libraries to promote early education literacy and to teach Jewish values that transcend religious affiliation.
At no cost to the families, the Ministry of Education matches funding provided by the Harold Grinspoon Foundation and several other donors with NIS 45 (about $13) per child per year, and facilitates all teacher-training.
'Effort to encourage reading'
Galina Vromen, director of Sifriyat Pijama and the Israel representative of The Harold Grinspoon Foundation, is thrilled with the momentum of this project: "In a short time we leapt from 3,000 children to some 40,000 children who will take part in the program."
Vromen explained that "this project empowers parents with knowledge and tools to convey Jewish values and concepts to their children in a meaningful way."
Sima Haddad Ma Yafit, head of the Pre-school Education Division in the Ministry of Education, who is leading the project on behalf of the Ministry, said that "Sifriyat Pijama is one of the programs in our national project that is focusing on 'the Year of the Hebrew Language.' This is an effort to encourage reading in both the kindergarten and at home, with special emphasis on good literature and the promotion of values among pre-school children."
With an emphasis on good Hebrew literature as well as core values, Sifriat Pijama has selected books by authors such as Meir Shalev and Leah Goldberg.
Adding two pages of recommendations for family discussion and engagement onto each book, and supporting the reading with a comprehensive website, www.pjisrael.org, Sifriyat Pijama offers a rich spectrum of resources and activities to parents and teachers