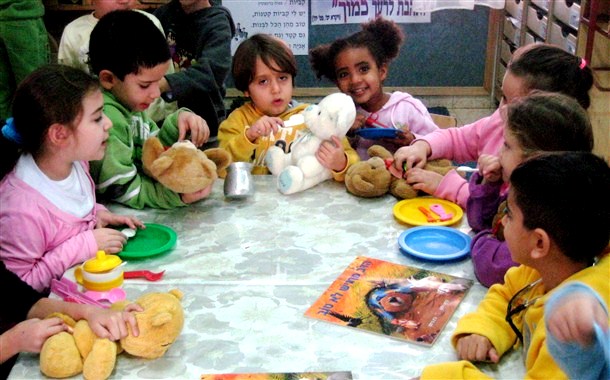 "A Story at Bedtime"
1/10/2011
To foster a love of books in its youngest citizens, Israel's Education Ministry, along with the Harold Grinspoon Foundation, has adapted an award-winning US program for Israel's children.
Israel's version of the PJ Library Project from the US instills a love of reading in Israel's youngest citizens. (Photo: Mariana Suarez, courtesy Sifriyat Pijama)
Hoping to instill an early love of reading, Israel's Ministry of Education is supporting two major initiatives to get books into the hands of preschoolers and their parents.
In October, about 44,000 three- to five-year-olds in 40 Israeli communities began receiving free storybooks through the Sifriyat Pijama project. Adapted from the American award-winning PJ Library and sponsored by the Harold Grinspoon Foundation, Sifriyat Pijama aims to promote early literacy and transmit transcendent Jewish values.
Creating a "bedtime story" culture
"This project empowers parents with knowledge and tools to convey Jewish values and concepts to their children in a meaningful way," says Galina Vromen, executive director of Sifriyat Pijama and the foundation's Israel representative.
Following a successful pilot project last year, the ministry decided to partner with the foundation in 2010-2011 to cover the cost of purchasing and distributing some 360,000 books to 1,600 preschools through the Israel Center for Libraries. Following initial enrichment activities with teachers, each child takes home one book every month to build a personal library.
An evaluation of the pilot revealed that Sifriyat Pijama succeeded in introducing reading in homes where bedtime stories were not part of the daily routine. Teachers in the 103 northern preschools involved in the project reported that nearly all parents read the Sifriyat Pijama books to their children at home, and siblings often joined in.
Intended as an ongoing program, Sifriyat Pijama is particularly appropriate for this year's "Year of the Hebrew Language" theme in the ministry, says Sima Haddad Ma Yafit, head of the Preschool Education Division in the Ministry of Education. "This is an effort to encourage reading in both the kindergarten and at home, with special emphasis on good literature and the promotion of values among preschool children," she says.
Introducing quality children's stories
A child in a Nahariya preschool in northern Israel with a book supplied by Israel's version of the American PJ Library project. (Photo courtesy Sifriyat Pijama)

Through its Madaf Hasfarim Sheli ("My Bookshelf") program, the ministry aims to instill a daily culture of reading and love of Hebrew literature in the schools and homes of about 70,000 kindergartners. For a sliding-scale fee of between 18 to 90 shekels per year, each child will receive nine books over the course of the school year to read in school and then take home.
At the end of each month, the kids enjoy a special activity related to the most recent selection, such as a theatrical rendition of the story. The ministry's Internet site offers ideas for additional integrated activities at school and at home.
Internet resources are also part of the Sifriyat Pijama program, whose books come with two added pages of recommendations for family discussion and engagement. While Madaf Hasfarim Sheli focuses on general Hebrew children's books, the Grinspoon Foundation's emphasis is on stories with specifically Jewish content.
"Long term, we are hoping to prompt changes in Israeli publishing so that good Jewish stories become part of the treasury of general children's book publishing here," Vromen says. Topics run the gamut from Jewish folktales to stories about Israeli immigrants to stories illustrating basic Jewish ideals such as welcoming guests.
Bridging the religious/secular divide
"If we can encourage Israeli authors and publishers to use a Jewish vocabulary in a way that is comfortable for a secular readership, perhaps we can provide a bridge between religious and secular audiences," she adds.
Distribution covers about 40 northern communities, 20 southern communities and a handful in the central region. "One of the beauties of our program is it's no less for affluent kids than for those from deprived backgrounds," Vromen notes. "We like to be community-based, but in bigger cities we went for pockets with substantial immigrant or underserved populations."
A book selection committee includes experts in Jewish history, culture, religion and education, along with representatives from the Ministry of Education and several Jewish institutions. Each selection is then vetted through an independent literary critic.
In addition to stories by Israeli authors such as Meir Shalev and Leah Goldberg, some Sifriyat Pijama books are Hebrew translations of PJ Library selections including Joseph Had a Little Overcoat by Simms Taback and Bagels from Benny by Aubrey Davis. Eventually, there will be two sets of nine books chosen each year, one for three- to four-year-olds and another for five- to six-year-olds